Toddler Size Mermaids Reusable Swim Diaper, Adjustable 2-5 Years
Customer Reviews
Write a Review
Ask a Question
06/11/2020
Melissa F.
United States
I recommend this product
Amazing
My daughter was getting close to out growing her swim diaper. I bought the toddler size expecting maybe another year. She has so much room to grow! The print is fun and perfect for my daughter. She loves the diapers and no red Mark's on her legs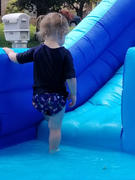 06/12/2020
Beau & Belle Littles
This is awesome to hear Melissa! Thanks for taking the time to let us know this is working so well. Love the picture and that you guys love this too!!
07/06/2020
Rebecca Z.
United States

I recommend this product

Best swim diaper

We could not find a swim diaper that fit our granddaughter without chaffing her inner thighs. This diaper fits her perfect, with no rubbing, and it's cute to boot  

Worth it!!

I LOVE this swimmer!! So much easier than buying disposable water diapers and better for the planet. The snaps are easy, my 3 year old can put it on all by herself. The design is adorable and the fabric is quality. I would recommend them to anyone and actually have at the pool in our community. You can wear them as bottoms or under a swimsuit without them looking bulky or out of place. The price is right and I received it the very next day.

Great size!

Great size fits well. Easy to wash and wear multiple times. Great color. Wish I would have bought it sooner.

Liquid error: Could not find asset snippets/product-content.zipifypages.liquid